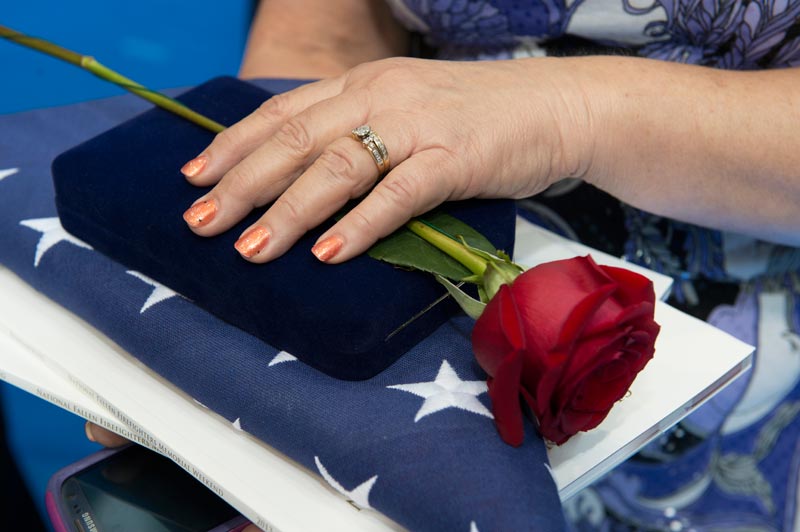 Updated October 2013
ONE-TIME DEATH BENEFIT
The State of Georgia Indemnification Program provides a death benefit for public service employees. Designated beneficiary or estate receives $100,000 in equal installments over five years or in one lump sum that is reduced to its current value. Application due within 24 months of incident for a fulltime firefighter or within 12 months for a volunteer or part-time firefighter.
Death must have resulted from an injury or incident while on duty and when responding to a fire or emergency or while performing duties intended to protect life and property. Going to or from work shall not be considered in the line of duty. For volunteers, the following are not considered in the line of duty: going to or from the department or traveling from the scene of a fire, emergency, or other location where duties were being performed and completed.
Contact:
Georgia Indemnification Commission
Dept. of Administrative Services
Risk Management Services
Floyd Contract Station
P.O. Box 347118
Atlanta, GA 30334-0118
Phone: (404) 657-4437
Website: doas.ga.gov
(Reference: General Code of Georgia 45-9-85, 5)
---
WORKERS' COMPENSATION
66 2/3% of average weekly wages to designated beneficiary, minimum and maximum amounts apply. Spouse with no children is limited to a total amount of $150,000; benefits end if spouse remarries. Weekly benefits are payable for a maximum of 400 weeks from the date of injury.
Volunteer firefighters: Includes volunteer firefighters of any county or municipality under definition of employees, but only for services rendered in such capacity and only if the local governing authority provides coverage for volunteer firefighters.
Contact:
State Board of Workers' Compensation
270 Peachtree Street, NW
Atlanta, GA 30303-1299
Phone: (404) 656-3875
Website: www.sbwc.georgia.gov
(Reference: General Code of Georgia 34-9-265 plus 34-9-261; Also see WC Handbook, Page 4)
---
FUNERAL BENEFIT
Maximum of $7,500.
Contact:
State Board of Workers' Compensation
270 Peachtree Street, NW
Atlanta, GA 30303-1299
Phone: (404) 656-3875
Website: www.sbwc.georgia.gov
---
RETIREMENT/PENSION PLAN
In addition to pension benefits provided by the deceased's department, the Georgia Firefighters' Pension Fund gives $5,000 to the designated beneficiary of a plan member. Applies to presumptive heart or respiratory disease.
Contact: your local department and the
Georgia Firefighters Pension Fund
2171 East View Parkway
Conyers, GA 30013-5756
Phone: (770) 388-5757
Toll-Free: (866) 374-0788
Website: www.gfpf.org
---
EDUCATION BENEFIT – CHILDREN
Two separate grant programs provide benefits for children of firefighter permanently disabled or killed in the line of duty. Both programs administered by same commission.
Public Safety Memorial Grant: Covers cost of attendance, minus other aid, for dependent children. Must be full-time undergraduate student enrolled in a Georgia public college, university, or technical college. Must be legal resident of Georgia and U.S. Citizen or permanent resident alien.
Contact for Both:
Georgia Student Finance Commission
2082 East Exchange Place
Tucker, GA 30084
Phone: (770) 724-9000
Toll-Free: (800) 505-GSFC
Fax: (770) 724-9089
Website: www.gsfc.org
---
EDUCATION BENEFIT – SPOUSE
None.
---
NON-PROFIT OR PRIVATE ORGANIZATIONS
Provides financial support and gifts to minor children.
Contact:
The 200 Club of the Coastal Empire
P.O. Box 1922
Savannah, GA 31402
Phone: (912) 238-1200
Website: www.twohundredclub.org
Provides financial scholarships for children of deceased or catastrophically injured employees. Ages 16 – 25.
Contact:
Kids' Chance of Georgia
2024 Powers Ferry Road
Atlanta, GA 30339
Phone: (770) 933-7767
E-mail: [email protected]
Joey Turner Memorial Fund
This fund is in place to ensure that the family of any firefighters killed in the line of duty have a home to sleep in, food on the table, and any other immediate needs met.
Contact:
Georgia Fallen Firefighters Foundation, Inc.
E-mail: [email protected]
Website: gafallenfirefighters.org
Woodmen of the World will pay a $10,000 fraternal death benefit if a qualified member is killed while performing his or her duties as a non-military first responder. To be eligible for this benefit, an individual must be a member in good standing of one of our other benefits.
First Responders include firefighters, EMT/paramedics, police or a person performing a supporting role to such individuals.
Contact:
Woodmen of the World
Woodmen Tower
1700 Farnham St
Omaha, NE 68102
Phone: (800) 225-3108
Website: www.woodmen.org
---
HOMESTEAD EXEMPTION
The unremarried spouse of a peace officer or firefighter killed in the line of duty will be entitled to a homestead exemption for 100% of the property value for as long as the applicant occupies the property as a homestead.
Exemptions include county M&O tax, county bond tax, school M&O tax, school bond tax and state tax. Note: Some counties offer additional exemptions from local homestead taxes. See county listing for contact information.
Applications:
Application for homestead exemptions should be filed with the tax commissioner in the county of residence.
(Authority: O.C.G.A 48-5-48.4)
---
COUNTY & LOCAL JURISDICTION BENEFITS
---
Disclaimer: The material contained in the National Fallen Firefighters Foundation Survivor Benefits website is not the result of legal research, but rather is based on a scan of public documents. We have made every effort to be accurate and timely, but errors may exist. The material on this website is advisory only and should not be cited as evidence or proof that a benefit exists or that our facts are accurate. Always consult the decedent's fire department for benefits assistance, or a benefits' attorney. If, in the course of your own research, you see errors of fact, or new benefit information, please pass this information along to the National Fallen Firefighters Foundation.